Court frees Anwar! (updated version)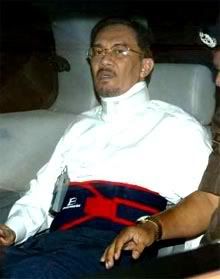 Sep 2, 04 9:01am
In a 2-1 decision, the country's highest court today set former deputy prime minister Anwar Ibrahim free after quashing his sodomy conviction. Also freed was his adopted brother Sukma Darmawan Sasmitaat Madja who had been convicted of the same offence.
A three-man Federal Court bench - consisting of Abdul Hamid Mohamad, Rahmah Hussein and Tengku Baharudin Shah Tengku Mahmud - delivered the stunning decision at Putrajaya's spanking new Palace of Justice.
Justice Abdul Hamid said that the High Court had misdirected itself in convicting and sentencing Anwar. He also said that the evidence of the prosecution's main witness Azizan Abu Bakar was uncorroborated.
"We're not saying Azizan is an outright liar but he certainly is not the kind of witness the lower court said him to be," said Abdul Hamid.
"He cannot be credible as he had given three different dates involving three different years (on when the alleged act of sodomy took place).
He added that Azizan was an accomplice to the alleged act because there was no evidence of protest. Tengku Baharudin was also in favour of Anwar, while Rahmah dissented.
No deal
Anwar, upon hearing the judgment, gave his family and reporters a tired smile. Later, he thanked Prime Minister Abdullah Ahmad Badawi for not interfering in the judiciary, unlike his predecessor Dr Mahathir Mohamad.
Anwar also brushed aside rumours of a secret deal with Abdullah which resulted in today's decision Meanwhile, outside the court, Anwar's supporters were seen hugging and shouting in jubilation.
They had been waiting outside the court building since early this morning, and reacted with joy and jubilation. A small number of police personnel kept a watchful eye on the crowd.
The 57-year-old ex-politician had arrived at 8.45am and was taken into the courtroom in a wheelchair. He came in an ambulance from Hospital Kuala Lumpur where he had been warded since July 12 due to a chronic back ailment which had worsen in recent weeks.
Fly to Munich
He is expected to fly to Munich, Germany later in the week for an urgent operation to treat a long standing spinal disc injury, which he said was aggravated by a police beating after his arrest in 1998.
Anwar's appeal on both conviction and sentencing was made on the grounds that the conduct of the High Court trial four years ago was deeply flawed. The High Court on Aug 8, 2000 had found Anwar and Sukma guilty of sodomising Anwar's former family driver Azizan.
Their application to the Court of Appeal was rejected on April 18 last year. Anwar has already completed more than one year of his nine-year jail sentence for sodomy, as well as an earlier six-year sentence for corruption. Meanwhile, Sukma who had been serving his six-year sentence since last year, will be released from Kajang prison.